beaujolais
Christian Ducroux
Vigneron Christian & Thibault Ducroux
Location Lantignié, Beaujolais
Coverage 4 hectares
Viticulture Certified Organic and biodynamic (Ecocert & Demeter)
Terroir Northeast facing vineyards at 400 meters altitude, with soil of weathered red granite.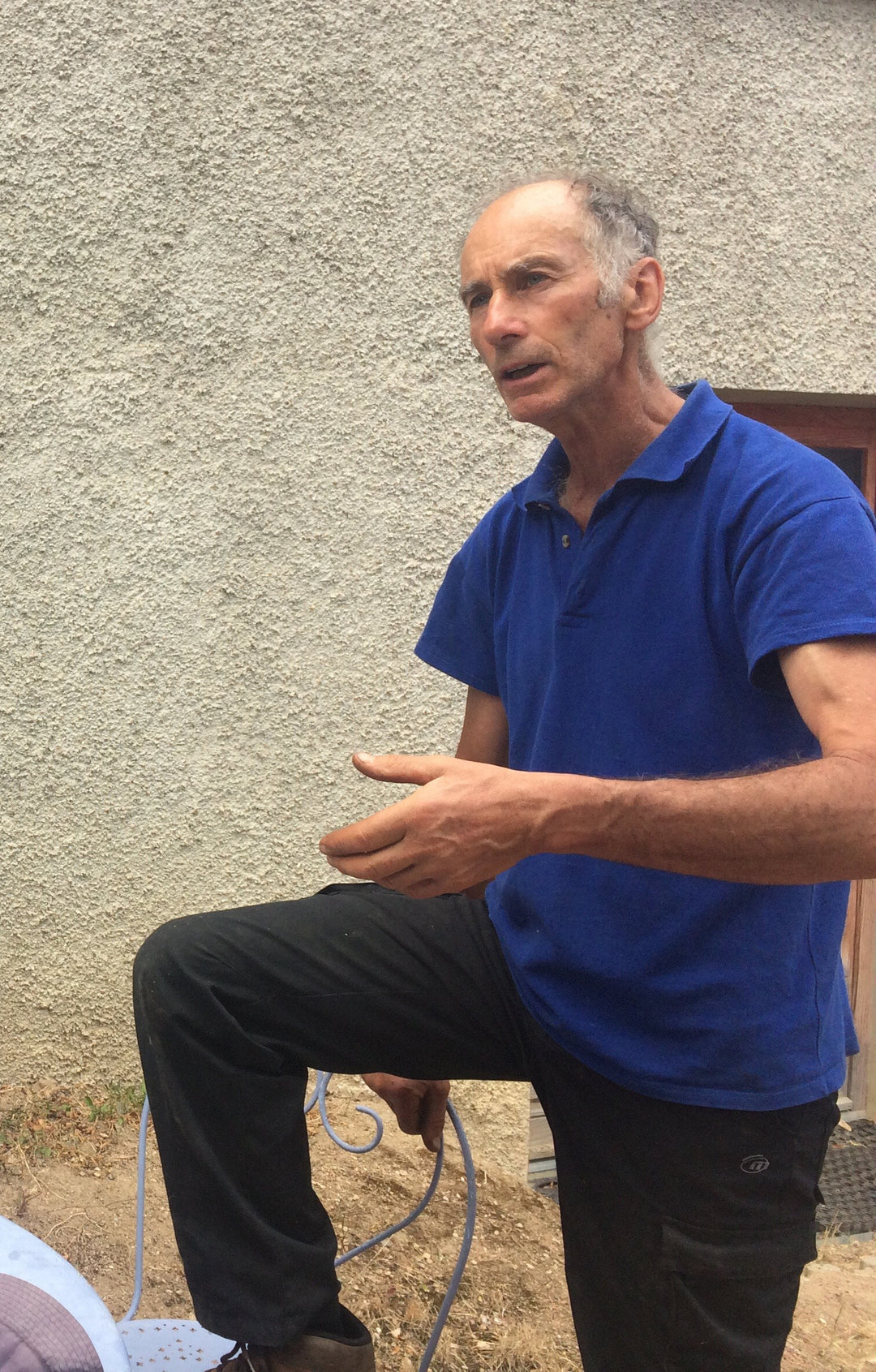 Veteran Christian Ducroux comes from an old family of wine farmers in the village of Lantignié in western Beaujolais, where he cultivates just over four hectares on granite. He has an impressively long history with natural methods in vineyards and cellars – more than forty years. Already in 1980 he received his formal organic certification, and five years later also his biodynamic certification via Demeter.
At the same time that the culture around natural wine took off in the 1980s around a group of charismatic growers a few kilometers east in Villié-Morgon, Christian Ducroux quietly continued to work in his own little corner of Beaujolais, using similar methods. The farm is also largely a self-sufficient farm that produces its own vegetable compost.
Christian is completely focused on working with the health of the soils, because living soils are a prerequisite for living wines with an expression of terroir. To avoid compaction of the soil, a considerable part of the work is carried out with the help of the Ardennes horses Hewan and Kaina, as well as an ox. The ox pulls more slowly than the horses and makes it possible to be more accurate with the plough. In order to respect the microflora and not exhaust the soil, Christian now only plows two or three times a year.
The vines are mostly over sixty years old, and he himself emphasizes the low yields (25-30 hectoliters per hectare) and a high density of vines (10,000 per hectare – sélections massales) as decisive for quality. The soil here consists entirely of weathered red granite. For every fifth row of vines, Ducroux has planted fruit trees – apples, pears, apricots, cherries, plums – and shrubs to increase biodiversity, and on the ground wild grasses, clovers, nitrogen-fixing legumes, herbs and flowers alternate to provide nourishment to the soil and the yeast cultures.
As far as possible, Christian avoids copper sulfate on the vine, because heavy metals are not broken down but enriched in the soil. Instead, he uses biodynamic preparations such as herbal teas and fenugreek to counteract oidium and downy mildew. He harvests in several rounds, as the fruit maturity can differ depending on how much other vegetation is around the vines in different places.
The goal is to harvest ripe grapes with low sugar levels that translate into modest alcohol levels. The fermentations usually start with a "pied de cuve" - that is, a spontaneous fermentation of grapes picked a week earlier than the rest. Ducroux adds nothing to his wines, not even sulfur before bottling. Years ago he used steel tanks for fermentation, but has now switched to fiberglass and cement as he thinks it gives more precise expression. Tanks, older burgundy casks and foudres are used for maturation.
With his long experience, Christian Ducroux makes wines that are dense, complex and age-friendly. The wines are rustic yet polish and incredibly vibrant.