Haute-Savoie
La Brasserie des Voirons
Brewer  Christophe Grellier
Location  Lucinges, Haute-Savoie
Certification  Labelled Nature & Progres
Methodology They work exclusively with hops & malt from Belgium, France and Germany. The unique mineral rich water is naturally alkali from limestone rich topsoils with slow drainage, bringing a soft bitterness to the beers.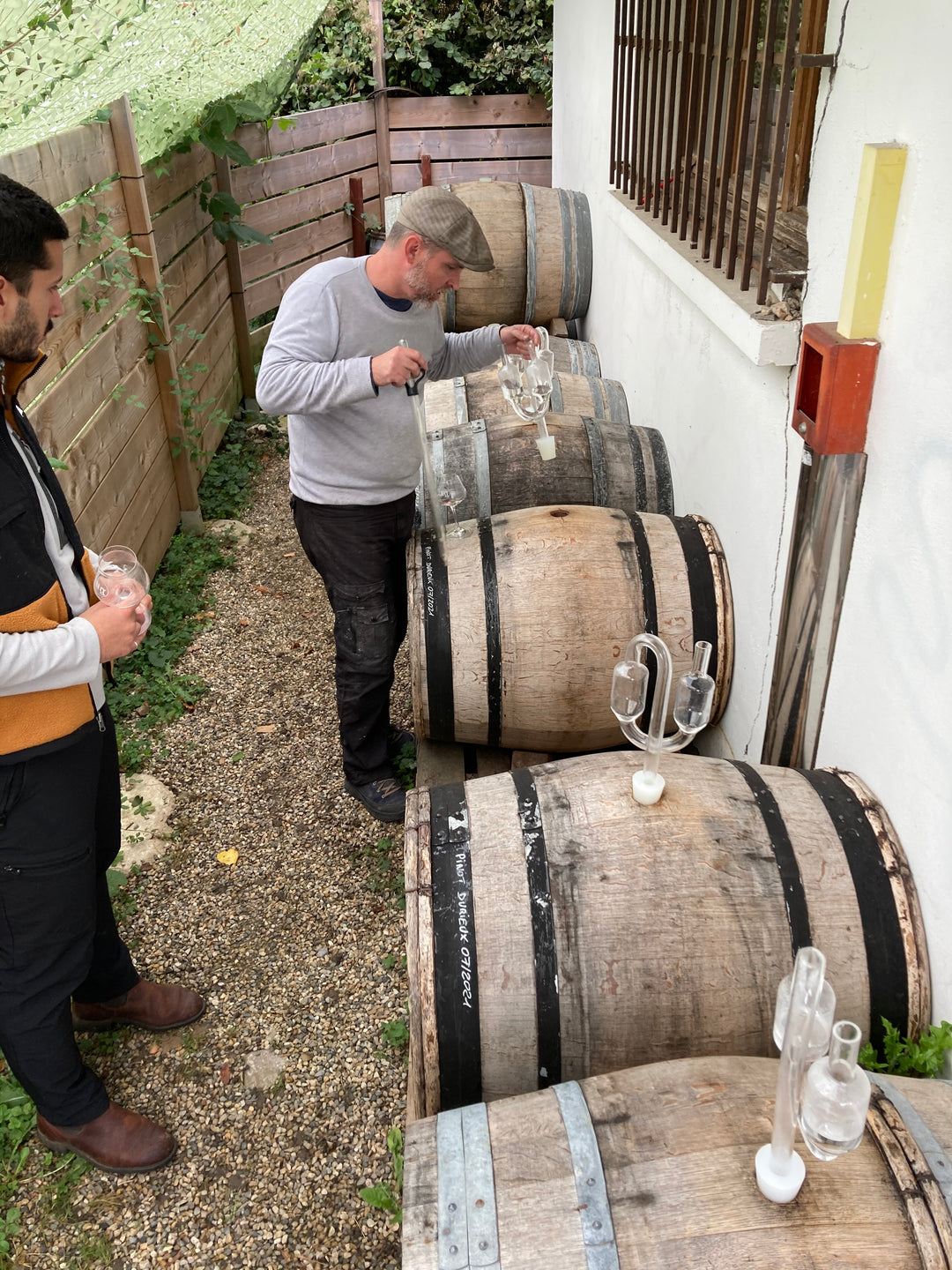 You'll find la Brasserie des Voirons in Lucinges, a small hilltop village just steps away from Geneva in the Haute-Savoie department of France. The joint effort of Christophe and wife Barbara who opened their doors in 2013 after a long and varied experience in restauration and hospitality. Working their ways through the "grande tables" in France and Switzerland they eventually settled on wine importation as well as their own restaurant and cave which they ran successfully for years. 
If you've never visited a brewery we recommend doing so, though Voirons is different from others. Fermenting tanks, bags of malt and walls of bottles make up most of the scenery, but you can't help but notice the collection of de-commissioned barrels in the brewery gifted as a result in this year's production decreases, an 100+ year old 1000L Savagnin Cask from Ganevat, Clos Rougeard, Fanny Sabre to name a few. There is a commitment to quality at all levels, the sourcing of the best ingredients from organic hops, malt and wheat from Belgium, France & Germany. Fruit is sourced locally from committed farmers and herbs are foraged seasonally as required. 
Tastings begin with a glass of the water that's used in the brewing. Water, which we can simplify as the backbone of brewing is critically important, the site was selected after years of surveying for the properties of its water. A hard top limestone layer makes it difficult for water to breach too deep, it therefore sits on the surface and reduces in pH, making it an ideal environment for wild fermentations and healthy yeast activity. The water itself is crystalline, full and markedly mineral. 
Stylistically, Christophe seeks balance; with a clear malt profile and a fine mousse, the rest is up to his imagination. A general consensus could be that the beers here are "light" but I would argue that finesse and subtlety are more the goal. Christophe brews by infusion mashing, a gentler and simpler approach in concept, that's more art form than practice. A process whereby brewing water (hot) is blended with malts to create a mash that only has one rest. At the expense of lost space, horizontal fermentation tanks are used for 3 reasons: to increase surface area horizontally with fermentation that starts at the beers "heart" and increase exposure to oxygen, more accurate gauging of temperature and again increased surface area for sediment throughout fermentation to increase the final body of the beers. All beers of the Brasserie are fermented spontaneously. 
Weight and sweetness are carefully balanced, with organic cane sugar the preference for bottle re-fermentation for it's fine mousse. After bottle, a short time in warm waiting kickstarts bottle fermentation. Settling continues in bottle "on latte" for several weeks awaiting release.
Ageing methods are endless with a preference for barrique, but sandstone eggs and earthenware amphora are also used depending on style. LUG (Voirons annual range) is typically started and finished in tank. Through tasting, previous use of barrels is subtle but evident, be it Aligoté or Pinot Noir aged blondes. Herbal, fruited and spiced beers typically see amphora for slow subtle extractions, while citrus sees a combination of wood and stone. 
Christophe adds to his extensive ageing program with a good 2 dozen outdoor barrels, the approach is moving back to the pillars of wild beer brewing and open these casks to the elements; sun and harsh Savoyard winters where to my surprise casks are left to freeze and burst and re-thaw in spring. All beers released in microscopic quantities and we are always happy to welcome what we can. All beers are certified by Nature & Progres in France.
La Brasserie des Voirons is precise, in brewing and in philosophy. The beers surprise yet remain drinkable beyond belief. These, we recommend for enthusiasts and skeptics alike.