burgundy
Laisse Tomber
Vigneron(s) Bastian Wolber
Location Côtes de Beaune 
Terroir Bastian works over a range of climates in the Côte d'Or. The geology consists of complex mix of clay & limestone.
Viticulture Vineyards are farmed organically, with biodynamic methods (not certified). Purchased grapes are organic or biodynamic.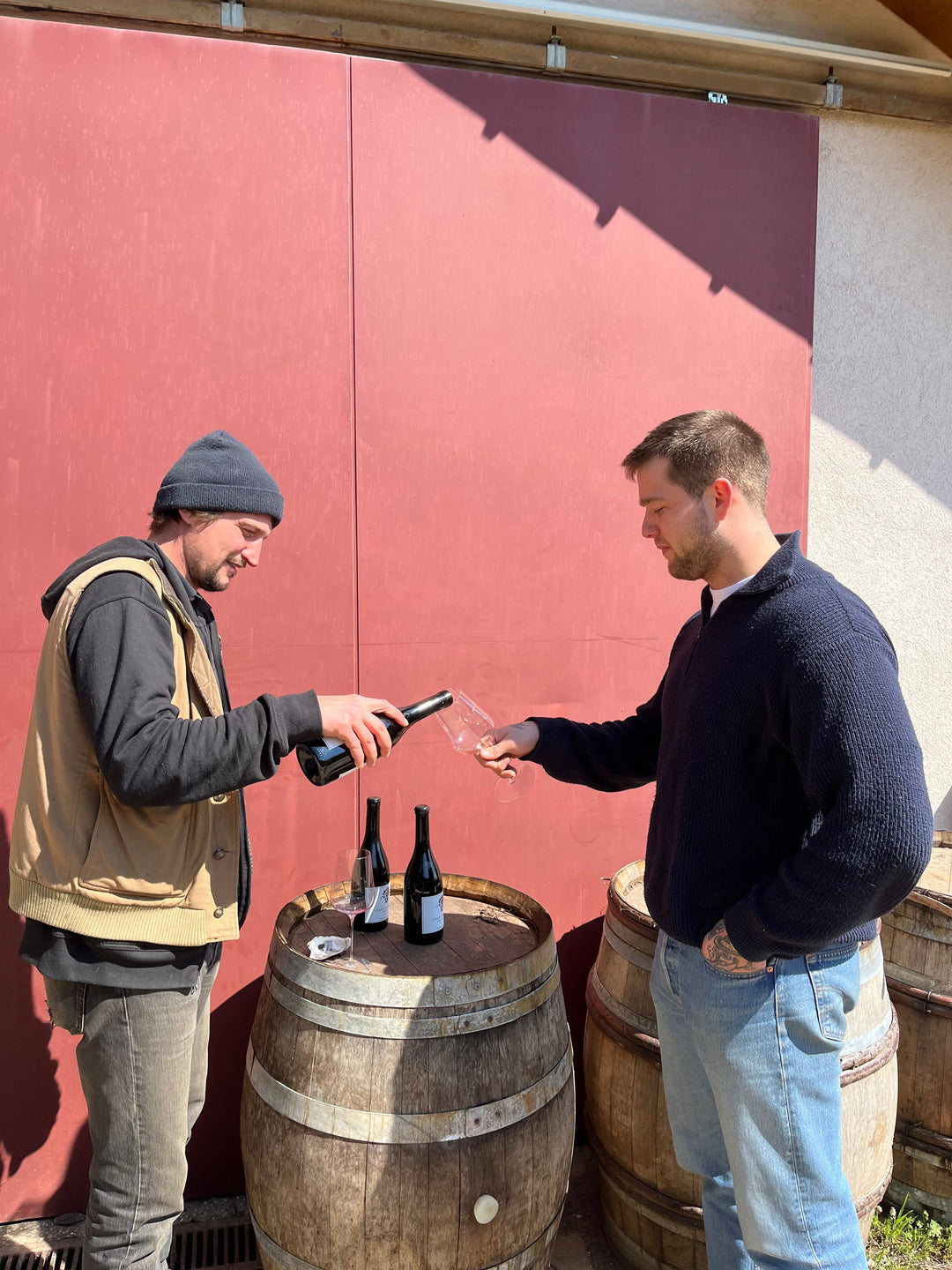 Bastian Wolber, born in Staufen im Breisgau, Germany, had a unique educational background attending Rudolph Steiner schools until he turned 18. The Steiner schools fostered creativity and exploration without traditional grading systems, which instilled confidence in Bastian. However, he felt a longing to pursue a different path from Steiner education and decided to study Economics and German Tax Law, hoping to find fulfillment in creating, exploring, and connecting with nature.
During this time, Bastian's younger brother, Christoph, ventured to Burgundy to work in vineyards. Working at renowned wineries such as Bernard van Berg, Domaine de la Vougeraie, Domaine Leflaive, and Comte Armand, Christoph's passion for winemaking grew. Meanwhile, Christoph's roommate, Alex Götze, honed his craft at Pierre Morey and Domaine de Montille. Inevitably, Christoph and Alex joined forces and established Wasenhaus winery in Baden in 2016.
Bastian visited his brother in Burgundy and had a transformative experience while sharing a bottle of Ganevat wine at La Dilettante in Beaune. The wine's complex, oxidative flavors captivated him, offering a stark contrast to the conventional wines he was accustomed to. It sparked a desire within Bastian to delve deeper into the world of natural wines. Back in Berlin, he embarked on a quest to recreate those enlightening moments by frequenting every natural wine shop in his neighborhood.
Motivated by his newfound passion, Bastian followed in his brother's footsteps and worked harvests in Burgundy. His winemaking journey began in 2013 at Leflaive, and with each experience, his longing to create his own wines grew stronger. After working with Rudolph Trossen in the Mosel and Jean-Marc Dreyer in Alsace, Bastian's path led him back to where it all began—apprenticing at Ganevat in 2019.
However, an unfortunate skateboarding accident during the harvest left Bastian with a broken hand, rendering him unable to assist in the winery. While initially distraught, this setback turned out to be a blessing in disguise. It forced Bastian to find an alternative means to continue his learning and practice in winemaking, leading him to embark on his own winemaking venture.
Bastian returned home and procured organically-farmed grapes from France and Germany, vinifying them at Wasenhaus. He named his project "Laisse Tomber," meaning "let it go" or "let it fall," alluding to his skateboarding accident. The label features a rider falling off a horse, symbolizing sensibility and soul—attributes associated with horses, which were abundant at his family farm due to his mother's role as a riding instructor. Bastian also finds a fitting parable from Herman Hesse that resonates with his situation.
Since his production in 2019 was too small to sustain him full-time, Bastian decided to return to Burgundy and pursue a diploma in oenology at the Université de Bourgogne in Dijon. He also continued to refine his winemaking skills by working alongside Jean-Yves Bizot.
In 2020, Bastian crafted his wines in Auxey-Duresses, sharing a winery with Chris Santini (Santini Frères), Jonathan Purcell (Vin Noé), and Morgane Seuillot and Christian Knott (Domaine Dandelion). His determination to farm his own grapes led him to acquire a parcel of Pinot Noir in the Côte Chalonnaise in 2020, followed by three more Pinot Noir vineyards in