czech republic
Richard Stàvek
Vigneron(s) Richard Stàvek
Location Němčičky, Czech Republic
Coverage 4.5 hectares
Terroir Loam with sandstone subsoil. Combination of young and old vines with co-plantings of hybrid and international varieties
Viticulture Organic with application of biodynamic principles​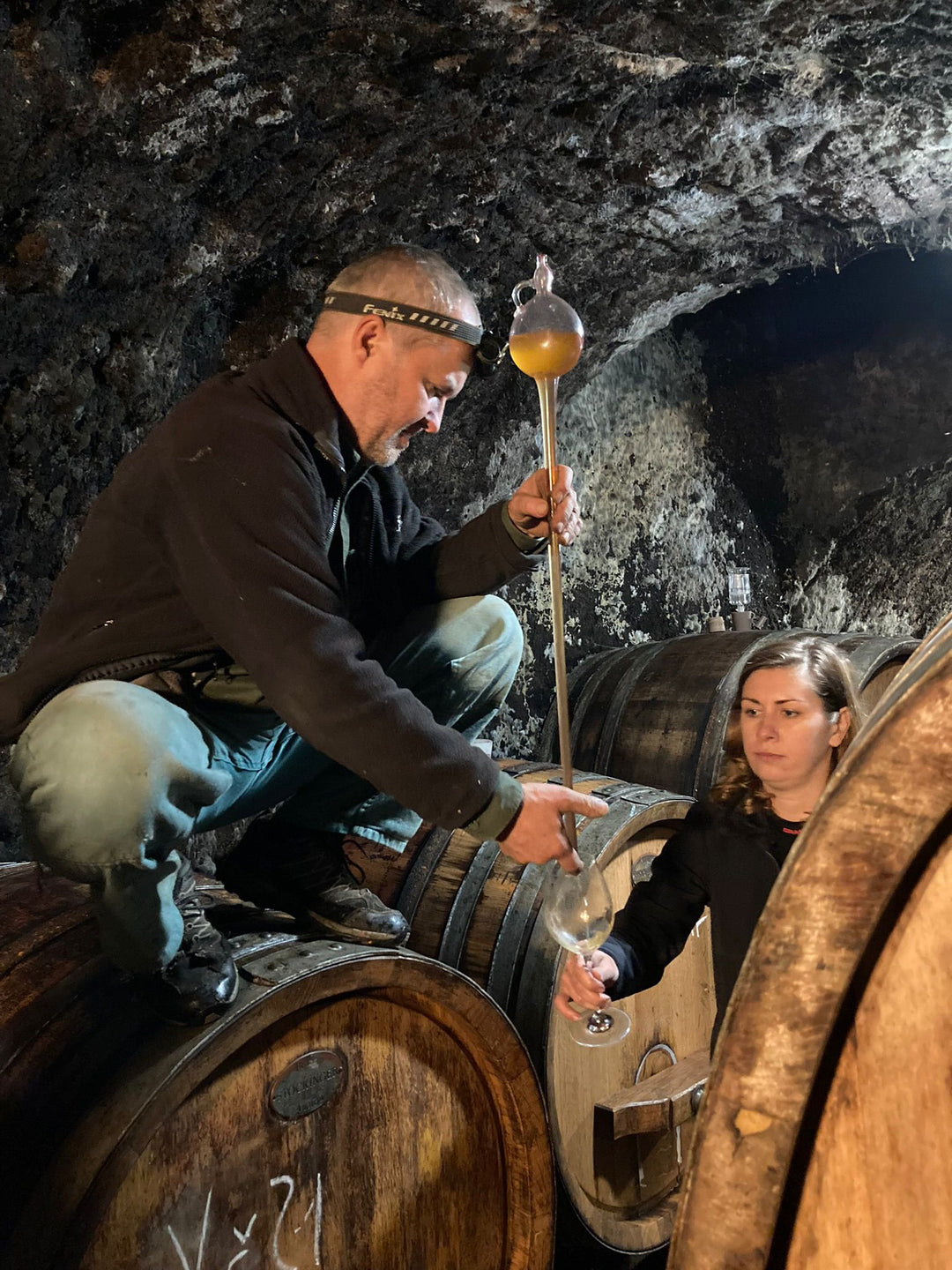 Richard Stávek is experimental and insightful, producing wine in the South Moravia region of the Czech Republic since the 1990's. Stávek has 15 hectares of land in South Moravia, 4.5 of which are dedicated to his vineyard, there is an additional 4 hectares of wild dense forest. The rest is home to animal life, sea buckthorn bushes, berries for brandy, and more. His vineyard is home to mostly indigenous grape varieties, many of which are field blended in his wines. The property has parcels scattered around Němčičky and its surrounding but plantings are focused around 2 main parcels: Vésely & Spigle-Bocki both planted on majoritarily sand & clay with a slightly higher proportion of sand at Vésely.
At the beginning of the cold war, the USSR contracted the planting of more vigorous hybridised varieties with hopes of driving production for the state. In these parcels hybrids Rubinet & Sevar were co-planted between rows of older vines to create patterned resistance whereby negative effects on un-resistant vines will increase with decreased susceptibility of the co-plantings.

He is a co-founder of Autentisté, a group of natural winemakers in the Czech Republic rooted in Central European tradition and focused on producing terroir-driven wines. In a region primarily known in the beverage world for beer, Stávek and his fellow winemakers take pride in producing wines truly representative of their land. Autentisté insists on low-yield production using hand-picked grapes, with organic farming practices and, in the cellar, natural fermentation with no added yeasts, low sulfur, and no genetically modified organisms or additives.

Any research for Richard & his way of farming will tell you that he is a strong believer in biodynamic pricniples, while this was true and though many concepts can still be seen applied around throughout the parcels, Richard finds that over the years he is trying to do less. He recalls a during his close study of Rudolf Steiner's works, that Steiner states the application of biodynamic principles is in fact a remedy and therefore unnecessary all together if we already have established polyculture and soil vitality. Most recently, the heavily grassed, un-plowed soils have enough richness to supplement the vines, the area is teaming with old-style agriculture, parcels are secluded and teaming with life. Richard is also the type of winemaker who accepts the loss of fruit by wild animals feeding, that mildew can sometimes sweep through and that many things are out of our control. In addition to his vines he grows apricots, cherries, walnuts, seasonal vegetables, and produces honey.

As described by Richard, quote on quote "problems" are not something we can toy with two much though of course naturally limiting them is ideal. Something Richard was proud enough to drive out on show us was his compost pile sitting at the top of the parcel at Vesely. The compost still used in infusions with manure to make the 500-esque blend sprayed on the vines. The left over wood is turned into charcoal and scattered between the rows of vines, the agriculture uses of charcoal can be extensive but simply but it is porous and retains nutrients and water for plants. The only machinery used is a small tractor intentionally retrofit with continuous track wheels (yes like a tank) to reduce soil compaction. All wood for staves, firewood and the barrels are made from wood from Richard's own forest. The staves are part of the wood supply used in the production of barrels for the famous Austrian based Stockinger.

Production is quite simple. Grapes are hand-harvested and whole bunches are fermented in 400 and 800 liter wood barrels, with tests currently on-going in Czech earthenware amphorae. Fields blends are generally the style, all wines are pressed by hand in a small 80 year old basket press and macerations don't exceed 2 weeks for orange wines and 6 for reds. Subsequent élevage is 1 to 2 years in bottle followed by minimum 2 years in bottle before release. The wine has zero sulfur added and is unfiltered and unfined. The wines are all designated as Moravia Landwein. Below some notes of highlights from our most recent visit.

Odmery 2019 100% Pinot Blanc aged 1 year in 600l oak barrel. No descernable notes from barrel ageing but gentle sensation of microoxidization that softens aroma. The parcel exposed north with vines planted in 1973. Wild crab apple, bruised white flowers, white peach and white pepper. Salinity guys the structure with a palette that transitions to significantly more vegetal then the aroma. Fruit passes to coastal herbs, some brined apple, wild thyme and green olive. Good length with end palette of lemon pith, mint & pine resin. Medium bodied and medium acidity with persistent bitters. Alcohol at an inviting 11%. Perhaps overly vegetal for uses outside of pairing.

Spigle-Bocky 2020 Field blend of Riesling, Grüner Veltliner, Neuburger, Welschriesling, Roter Veltliner. Medium gold to light amber with silver & yellow reflections. higher depth of colour & intensity of aroma. Aromas of wild flower honey, light caramel and peach pit, hay, dried mango, white pepper and coriander seed. subtle attack and persistent palate. More defined maceration (17 days) and descernable tannin but well integrated. Same experience as Odmery with a palate highlighting vegetal undertones, more tarragon, some honey and licorice root, wild fennel and dried orange. Bitters reminiscent of burnt honey and roasted apricot.

Mlady Bocek 2018 Lowest vines of hybrids Rubinet & Sevar. "Bocek" meaning young is this wine issued from vines planted in 2011. We move into an aroma unlike many things we've ever smelled; rustic and packed with wild red & black fruit, spiced and earthy. Attack in frank but ripe with softness coming through on the palate. Immediately overripe blackberry and black cherry, clove & nutmeg, turned up black earth and grass. The aroma develops after some time in carafe to an almost charcoal like spear-minted mélange that is fascinating. Unique concentration and another wine sitting under 11.5% alcohol.

The wines are true and pure, straightforward and genuine, rustic but at the same time elegant, with great personality.