italy
Azienda Agricola Tinessa
Vigneron(s) Marco Tinessa
Location Montemerano, Campania
Coverage 3 hectares
Terroir the soil is composed of calcareous and friable elements, with interwoven tufts and volcanic ash. Tinessa tends to his grapevines in three distinct parcels, which are located at an average elevation of 450 meters above sea level.
Viticulture Organically farmed, work done specific to parcel and all worked by hand. Low yields and often harvests late, particularly in regards to Aglianico, which allows for good phenolic ripeness without comprising the grape's naturally high acidity. Tinessa seeks a return to authentic viticulture, respecting the environment and excluding the use of chemical products or other modern techniques in the vineyard.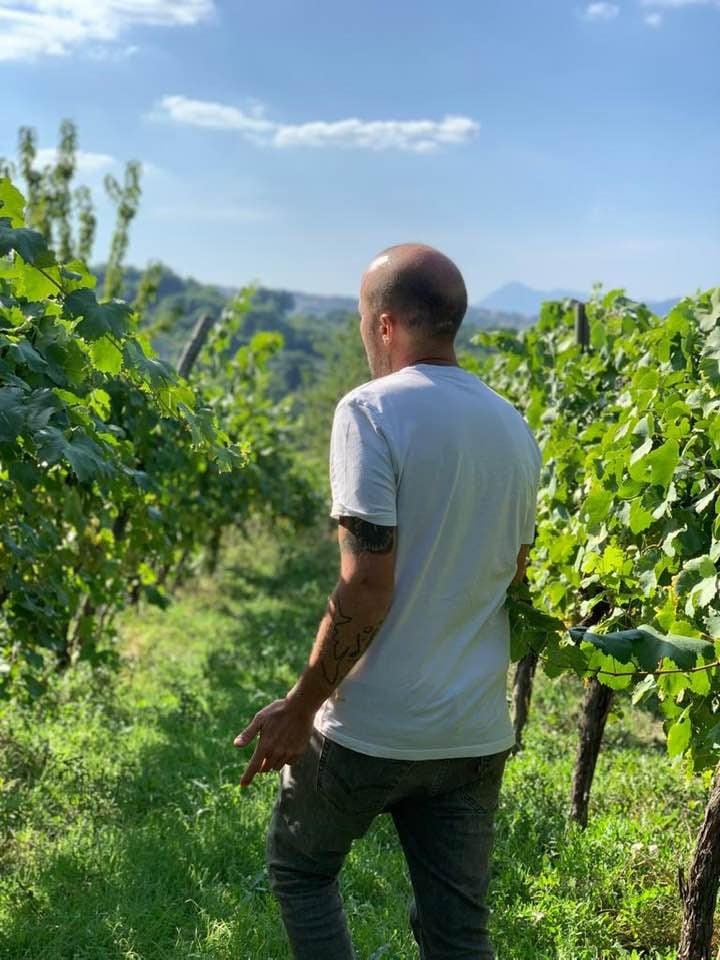 Marco Tinessa hails from Benevento and is a professional broker who migrated from Montesarchio to Milan. Despite his urban lifestyle, Marco's passion for wine led him to produce a pure Aglianico from a small vineyard he owns in the Torre district of Montemarano. This wine perfectly captures the essence of the vine and the terroir.
Thanks to his wife's Sicilian roots, Marco met Frank Cornelissen, a Belgian winemaker famous for his volcanic and charismatic temperament and for being one of the most prominent players in the Etna wine scene. They both shared the idea of producing purely artisanal wines and, in 2007, they founded "O'gnostro," an Aglianico made using natural methods and aged in terracotta amphorae for 2 to 3 years, depending on the vintage.
"O'gnostro" is the result of spontaneous fermentation, with the aim of preserving the characteristic aromas of the vine and the vintage. They use neutral containers and a minimal amount of sulfur in all stages of production, from processing the vineyard to bottling. Their goal is to maintain the unique characteristics of Aglianico.
The wine is a real nectar, with a charged color and a complex aroma. It is inevitably full-bodied, yet surprisingly fresh and elegant. Despite the alcohol content indicated on the label, "O'gnostro" offers supreme drinkability, with its minerality standing out effortlessly.
After leaving Montesarchio, Marco Tinessa spent a year in the Langhe, working for Mario Fontana and learning the secrets of the great Nebbiolo vine. He felt ready to make his own wine after gaining this valuable experience and subsequently set up a wine room on the outskirts of Milan. On the day of the harvest, grapes are transported from Campania to the wine room, where they are processed to make interesting interpretations of the Campania terroir.
Tinessa's wines are made from typical vines of the region, such as Aglianico and Fiano, processed without chemicals and with minimal intervention. These wines showcase the unique flavors and characteristics of the Campania terroir.