bugey
Les Grangeons de L'Albarine
Vigneron Luc Bauer
Location Argis (Ain)
Coverage 3 ha
Terroir Alpine climate. Jurassic limestone, limestone scree, glacial moraine, clay-limestone. Gentle to steep slopes on the Jura mountain foothills. 225-400m altitude.
Viticulture Certified organic (Ecocert), practising biodynamics.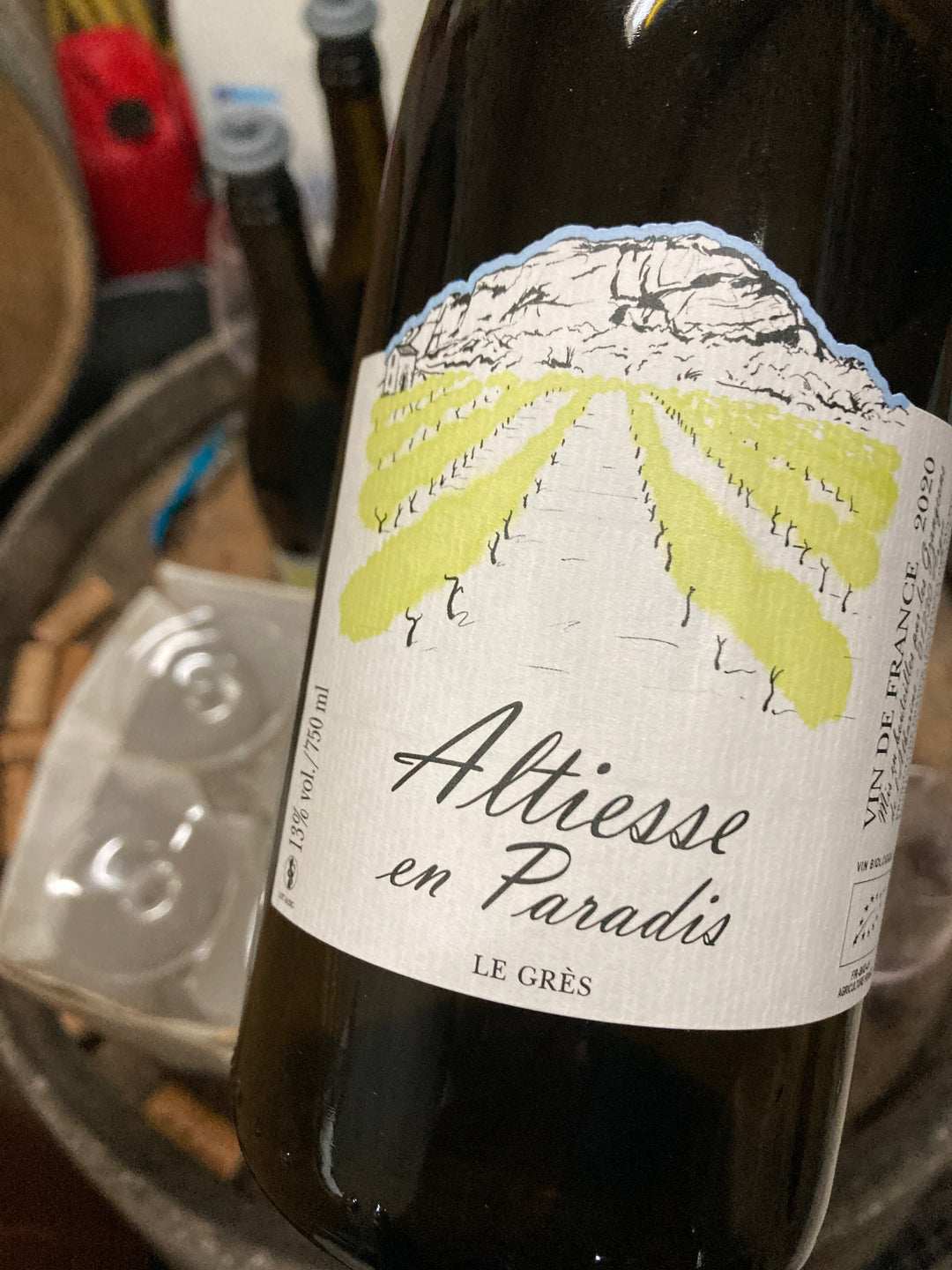 Les Grangeons de L'Albarine was first introduced to us by a Bugey local passing by our Utrecht cave. Equally interested in Louis Terral from Mérignat he insisted that we try one of Luc's wines are proceeded to drop a bottle of Altiesse en Paradis le Grès 2019. We immediately took notice and planned a visit for the following fall. When we prepared our 2022 spring tour, we flew down to Geneva and made our way over to the Bugey for an afternoon with Luc among the mountain tops in Argis. 
Luc is from just South of Lyon and by no means a native through you would expect as much from his humble understanding of the local terroir and connection to the area. From a young age he was always eager to work in nature and pursued a career as a agricultural engineer. Quickly, he grew further and further from his goal, becoming disillusioned by the profit centric cereal industry where he found himself and more fascinated by sustainability. 
He studied winemaking in Burgundy and worked throughout the Maconnais after graduation with the likes of the Bret Brothers and Philippe Jambon, two form advocates of biodynamic viticulture. In 2011, he acquired two steep parcels on the historical Coteau d'Argis. These parcels are located on a southwest-facing slope overlooking the Albarine river, at the foot of the Roche de Narse, a small rocky mountain with impressive limestone cliffs. The area is officially protected for its biodiversity and benefits from limestone scree that reflects sunlight during the day and releases heat at night. This unique setting allows the grapes to ripen optimally in an otherwise cool region.
The previous owner had already replanted some parts of the abandoned slopes between 2002 and 2006. Motivated by this opportunity, Luc took over the vineyards and embarked on the challenging task of clearing more land, building terraces, and planting additional vines. Currently, Luc cultivates 2 hectares on the Coteau d'Argis. However, he is eager to work with a diverse range of terroirs and also owns and rents around 1 hectare in various parts of Bugey.
Luc's other vineyard sites include Combernand (Cluse des Peintres), situated on flat land of glacial moraine, Clos de Beauregard with its south-facing position overlooking the Rhône, characterized by iron-rich limestone scree, and a clay-limestone plot at the foot of the Grand Colombier, Bugey's highest peak at 1,531 meters.
Luc proudly describes himself as a paysan-vigneron and feels honored to continue the rich rural tradition of Bugey, which has experienced significant decline throughout the 20th century. The name "Bauer," meaning "farmer" in German, is fitting for him. The domaine's name pays homage to the past when the locals aspired to own a "grangeon," a stone building that housed farming equipment and often a wine press. Many grangeons existed above Argis in 1905 when there were still 100 hectares of vineyards in the area. While Luc cannot alter history, he hopes his efforts will inspire others to follow in the footsteps of previous generations.
Luc possesses a Cartesian nature and appreciates understanding the mechanics behind things. Initially skeptical of practices derived from Goethe and Steiner's work, he eventually embraced certain biodynamic methods, despite not fully comprehending their workings. He follows the lunar calendar, employs a variety of herbal teas, liquid manure, and decoctions made from local plants to treat and invigorate the vines. To maintain soil health, prevent compaction, and improve aeration and drainage, all tasks are performed by hand or with an ultra-light crawler tractor called a "chenillard."
Luc's winemaking goal is to produce wines that clearly and precisely express their terroir. Most of his cuvées represent a single grape variety from a specific parcel, although he also experiments with blends for some red wines. The grapes are hand-harvested, and a pied de cuve, specific to each parcel, is created a couple of days before fermentation to ensure a vigorous start. White varieties are gently pressed as whole bunches and then transferred to demi-muids or sandstone amphoras for vinification and aging. For the red wines, the duration of maceration and the proportion of whole bunches used are adjusted according to the vintage, variety, and terroir, with the aim of producing wines that offer immediate pleasure in their youth, while the whites are crafted for long-term aging. Luc's wines are unfiltered and mostly made with minimal or no added sulfur, except for an occasional small pre-bottling addition of 10mg/l, determined by simply leaving out to in the open air to see how long it holds. 
Luc's wines are pure and instantly memorable. A humble soul matched with bracing personality.