Rheinhessen
Marto Wines
Vigneron(s) Martin Wörner
Location Flonheim, Rheinhessen, Germany
Coverage 5 hectares
Terroir The terrain in the area is diverse and unique, with noticeable changes occurring every 100 meters. The soil composition varies greatly, encompassing a wide range of materials such as limestone, sandstone, silt, clay, and even volcanic rock.
Viticulture All organic farming with some biodynamic principles applied. The focus has always been on soil vitality. He uses cover crops of radishes, beetroots and turnips throughout the vineyards, and there is no tilling.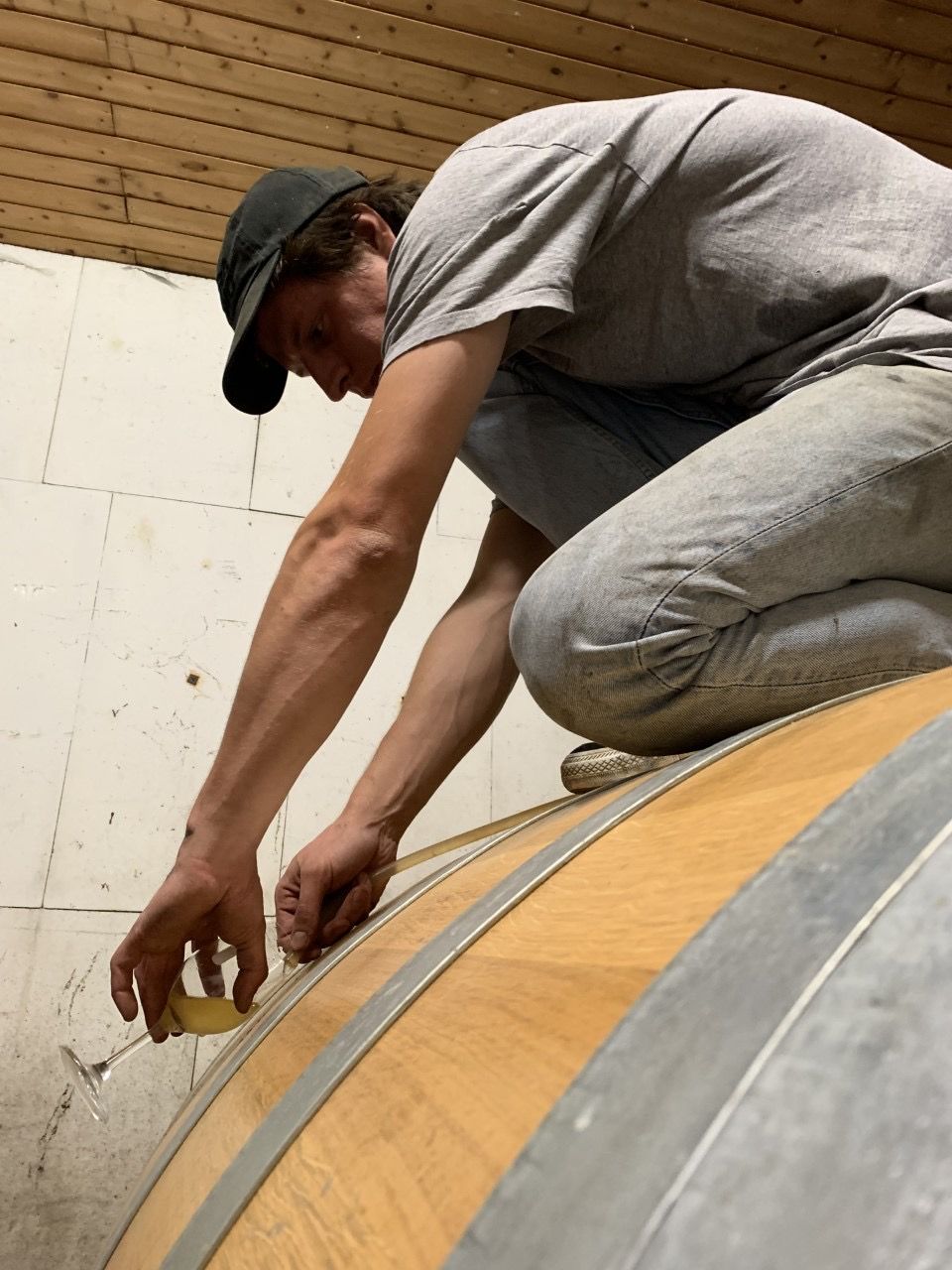 Martin Wörner is a young farmer from the village of Flonheim in the Rheinhessen, Germany's largest wine region. In 2017, he began his adventure as a winemaker in a part of his father's cellar. For years, the grapes from his family's vineyards had been sold to large cooperations and nothing was left for own use.
After his studies to become an oenologist, Martin decided to completely change course and make natural wines without any additives of sulfite. After several apprenticeships with legendary winemakers Tom Lubbe of Matassa and Gut Oggau, it was time for his first own vinification. With the by now famous cuvée ''weiss'', Marto is racing through the world of natural wine and nowhere in the world can he be left out of the wine lists of famous restaurants. After a 3 month internship in 2020 with Martin in the vineyards we became good friends and can say we have built a bond for life. There is a new generation of young winemakers in Germany, challenging the wine worlds view on what German natural wine is, and at the forefront is Martin Wörner and his label Marto. 
Between Germany, Japan and Australia these bottles were snapped up quickly and everyone else eagerly awaited his 2017 release to begin working with him. I was incredibly excited to have found such a talented young producer whose wines were so alive, and couldn't wait to visit him at home in Flonheim just a few months later.
Martin comes from an agriculture background, his grandfather was a pioneer, a grape grower that was one of the first in their village of Flonheim to bottle wine under his own banner rather than selling the grapes to the co-op. Flonheim is located in the western part of the Rheinhessen, near the Nahe region. Martin's father did not have much interest in the vineyards, making his livelihood instead farming strawberries. The family continued to maintain the vineyards, but until Martin took over in 2015, all the fruit was sold to the co-op.
The Rheinhessen is the largest wine region in Germany, of its 136 villages, 133 are connected to viticulture and 20% of its area is dedicated to vines.  Summers are warm, winters mild and the annual rainfall is low to moderate, The weather conditions are deemed almost perfect. The soils are variable and distinct, changing every 100 meters or so, and range form limestone, sandstone, silt and clay through to volcanic rock. Flonheim is most famous for its sandstone quarry.
Martin works 5 hectares of vines currently, all in organic farming with some biodynamic principles applied. For his first harvest he only worked with 1 hectare, by 2017 it was 3 hectares. The focus has always been on soil health and getting that right first. He uses cover crops of radishes, beetroots and turnips throughout the vineyards, on the steeper slops it is incredibly important to assist with stopping soil erosion. Sheep are used to eat the grasses and no tilling occurs.
Despite his young age, Martin sought out experience from some of the best producers. In 2015 he worked at Gut Oggau with Eduard and Stephanie Tscheppe and in 2016 at Matassa with Tom Lubbe. His time with Tom was to be the most influential and he still seeks his guidance when needed. Because harvest in the south of France is considerably earlier than Germany, it provided Martin the opportunity to do 2 harvests in 2016 with the knowledge of what he had learnt very much at the front of his mind. Tom also gifted him two old demi-muds for his first harvest. 
Èlevage is in old barrels, foudres and Mosel casks. All work is done by hand, all the wines are unfiltered, unfined and without any additions. Under German law, Martin is unable to put the village on label, so the rock is a nod to Flonheim and its characteristic sandstone.